2011 Outstanding Volunteers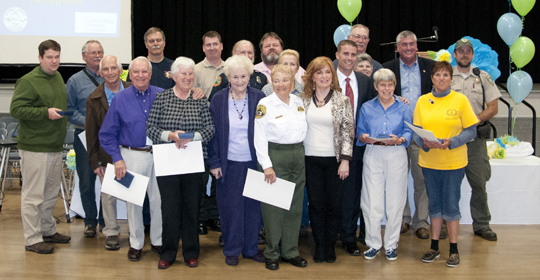 Sonoma County's 28th Annual Volunteer Recognition Reception Event was held on May 3, 2012 to recognize all of the County's volunteers. The County benefits from approximately 3,000 volunteers who are committed to providing services that help to support the community. For example, volunteers act as tutors and mentors to abused and neglected children and offer support to the mentally ill. There are trained volunteers who assist with the searches for lost and missing persons, as well as volunteers who respond to hazardous materials incidents. Volunteers also groom, and care for animals in the County shelter; guide visitors in County parks; assist with research; provide translation skills; and perform countless other meaningful deeds that benefit our community.
Eighteen (18) individual volunteers were identified and selected by departments and programs for which they volunteer as Outstanding Volunteers. These individuals were selected based on having contributed one or more of the following:
An extraordinary number of hours in a year's period
A longstanding commitment to the department/program
An effort of exceptional quality
Participation in a project with wide-ranging impact
Something else the department considers invaluable or extraordinary
The 2011 Outstanding Volunteers were presented with an award and a gold resolution describing their exemplary services to the County of Sonoma. Members of the Board of Supervisors shared information about them and presented their award at the Volunteer Recognition Event.
Congratulations to the Sonoma County 2011 Outstanding Volunteers:
Sam Viola, Assessor-Appraiser Aide Volunteer, County Clerk-Recorder-Assessor
Janet Kopshever, Community Development Commission, Housing Assistant & Administrative Assistant
Leann Mannie, Department of Health Services, Animal Care & Control, Canine Kennel Asst/Dog Walker
Tim Oxford, Department of Health Services, Public Health, Field Nursing, Secret Santa Volunteer
Tianna Law, Economic Development Board
Darrin DeCarli, Fire & Emergency Services, Fire Division, Volunteer Fire Assistant Chief
Chris Mulligan, Fire & Emergency Services, Hazardous Materials Response Team
Ken Harrison, Fire & Emergency Services, Auxiliary Communications Service, Chief Radio Officer
Janis Menicucci, Human Services, Information & Referral, 2-1-1 Program Volunteer
Earla Snow, Human Services, Valley of the Moon Children's Center, Emergency Foster Care
Eva Tornow, Probation, Juvenile Hall, Friendly Visitor
Gary Bodwin, Regional Parks, Park Trail Monitor
Tom Reynolds, Regional Parks, Volunteer Photographer
Joan Dayton, Sheriff's Office, Volunteers in Policing
Henry Righetti, Sheriff's Office, Detention Division, Catholic Restorative Justice Volunteer
Dan Johnston, Sheriff's Office, Search and Rescue Team
Ken Hicks, Transportation & Public Works, Airport Volunteer
Phyllis Turrill, University of California Cooperative Extension, Master Gardener
Some content on this page is saved in an alternative format. To view these files, download the following free software.