2012 Outstanding Volunteers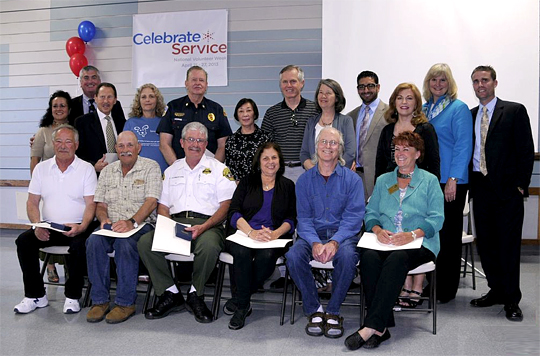 Sonoma County's 29th Annual Volunteer Recognition Reception Event was held on April 25, 2013 to recognize all of the County's volunteers. The County benefits from approximately 3,000 volunteers who are committed to providing services that help to support the community. For example, volunteers act as tutors and mentors to abused and neglected children and offer support to the mentally ill. There are trained volunteers who assist with the searches for lost and missing persons, as well as volunteers who respond to hazardous materials incidents. Volunteers also groom, and care for animals in the County shelter; guide visitors in County parks; assist with research; provide translation skills; and perform countless other meaningful deeds that benefit our community.
Thirteen (13) individual volunteers were identified and selected by departments and programs for which they volunteer as Outstanding Volunteers. These individuals were selected based on having contributed one or more of the following:
An extraordinary number of hours in a year's period
A longstanding commitment to the department/program
An effort of exceptional quality
Participation in a project with wide-ranging impact
Something else the department considers invaluable or extraordinary
The 2012 Outstanding Volunteers were presented with an award and a gold resolution describing their exemplary services to the County of Sonoma. Members of the Board of Supervisors shared information about them and presented their award at the Volunteer Recognition Event.
Congratulations to the Sonoma County 2012 Outstanding Volunteers:
Tom Flippen, Volunteer Attorney – District Attorney's Office: We are honored to have a man who has his life and work experience, volunteering in the often under-appreciated and lesser know area of criminal justice: Drug Court. Tom desires to see positive change in individuals and to see them succeed. Tom is a former Marine and has been an attorney for over 40 years, working in places including Alaska, Washington D.C., and Japan. He was also a former Deputy DA in Alameda County. His peers at the DA's Office and colleagues in the justice system are grateful for his diligence, professionalism, and enthusiasm.
Marilyn Sutton, Animal Care & Control, Department of Health Services: Marilyn has volunteered at Animal Care & Control for over four years contributing hundreds of hours of time and energy with the utmost devotion and enthusiasm. She is great with the animals and people, and uses her wonderful abilities to assist the staff and care for the animals. She has helped people find their missing pet and works hard to find good homes for adoptable animals. Marilyn has assisted with putting on fairs, mobile adoptions events, and parades; her assistance at these events has been comforting to animals and people alike.
Robert Rosenhahn, ACS Volunteer, Fire & Emergency Services: Robert is a volunteer with the Auxiliary Communications Services area of Fire & Emergency Services. He has provided leadership to the Central County Unit between 2006 and 2013, ensuring other volunteers are trained in emergency communications. Robert was also instrumental in building a valid database of volunteers and reporting hours and activities. His consistent leadership as Unit Leader over the years has provided a stable and productive unit that can be relied upon to perform communication tasks for three Emergency Operations Centers.
Chief Wilbert Horne, Fire Services, Fire & Emergency Services: Chief Horne has over 50 years of experience in emergency fire operations, including 12 years as Volunteer Fire Chief for the Mayacamas area. He is a valuable asset to his community in providing enhanced safety and emergency response; and as a master instructor, he strives to pass on his knowledge of emergency response to numerous firefighters within his area and around the state. Chief Horne has provided a high level of integrity and leadership to the Mayacamas Fire Company and within Sonoma County Fire & Emergency Services.
Monica Huerta, HazMat Response Team, Fire & Emergency Services: Monica has been volunteering with the Hazardous Materials Response Team in Fire & Emergency Services since 2006. During that time she has entered hazardous environments, worked on decontamination teams, and ensured that job-site safety provisions are followed. Monica maintains a consistently positive, team-oriented attitude, and has been a model volunteer while also completing her degree at Sonoma State, working a full-time job, and raising a family. Despite the many demands on her time, Monica has remained committed to actively participating with the team and to furthering her education through attending hazmat-related training and obtaining related certifications.
Elaine Hart, Valley of the Moon Children's Home, Human Services: Elaine has been one of our longest standing volunteers at the Valley of the Moon Children's Home since 2004. She has given compassionate and nurturing care to the children, and has offered leadership to other volunteers, providing direction and structure for their work with the children. Elaine has imparted exceptional service and commitment to the children and families in our Emergency Foster Home Program at Valley of the Moon Children's Center. The staff shares the following: We are fortunate that Elaine is willing to share her caring spirit with the foster children in our care. Elaine Hart is truly an outstanding volunteer and we are honored to have her on our team!
Dean and Linda Davis, Juvenile Hall Division, Probation Department: Dean and Linda Davis are treasured volunteers at Probation's Juvenile Hall. The young people at the facility recognize and appreciate their devotion and care of their individual spiritual growth and education. As a couple they have provided inspiration, hope, and faith in the youth, helping them to reach their goals and to believe in themselves. One of the best ways to honor them is to read some of the comments from the young residents. For example:
"Dean is a very patient person that I feel is my friend. He's helped me in countless ways and knows what's best for us. He wants me to be patient and to learn how to overcome my stress."
"If anyone deserves a million $ for all the stuff he's taught us, it should be Dean!"
"Linda is a great person. She explains things from different angles and is very patient. She's always happy and smiling. I care about both Linda and Dean a lot."
"Linda promised I'll graduate. Not many people have had that much faith in me. She's working with me on the multiplication tables. Linda's very sweet and very helpful. It's cool Linda and Dean are married. They are both amazing people."
Herb Roukey, Campground Host/Maintenance Volunteer, Regional Parks: Herb has volunteered as a Campground Host and Maintenance Volunteer for Doran and Westside Parks for the past ten years. He has spent countless hours greeting campers, selling firewood, cleaning bathrooms, and doing everything to keep the parks looking great. Herb has spent the last two years assisting staff by painting, weed eating, and removing invasive plants at both Doran and Westside Parks, volunteering a total of 500 hours on these projects. Regional Parks Department feels fortunate to have Herb as a volunteer and is honored to recognize him as their "Outstanding Volunteer."
Barry Comerford, Volunteer in Policing Program, Sheriff's Office: Barry has been a Volunteer ln Policing (VIP) with the Sheriff's Office since 2011. He has contributed more than 400 hours, one day a week, patrolling the Sonoma Plaza and surrounding areas in an electric vehicle, which he maintains to a "T". Barry is always eager and willing to do whatever he is asked to do and does it with a smile. He has a positive approach with all those he encounters, even when enforcing parking laws and the rules of the Sonoma Plaza. Barry's "can do" attitude and easygoing demeanor is appreciated by all, endearing him to city staff, residents and tourists alike. He loves working in Sonoma, even though he lives in Windsor and has to travel a substantial distance to volunteer there!
Alex and Ellen Rush, Detention/Inmate Services, Sheriff's Office: Alex and Ellen have contributed immeasurably to the PATHS program, which assists hundreds of inmates who have been diagnosed with a mental illness. Together, they have taught a class every week at the Main Adult Detention Facility, which has amounted to hundreds of hours assisting inmates, who have been diagnosed with a mental illness, with the goal of helping them on the road to recovery. This type of instruction can be especially challenging, but Alex and Ellen arrive faithfully each week to teach their class. Alex and Ellen also volunteer their time to teach a weekly cognitive thinking class to female inmates at the Main Adult Detention Facility. Their caring, compassion and dedication in volunteering to offer this curriculum to both of these groups is worthy of recognition.
Carol Thompson, Search and Rescue Team, Sheriff's Office: Carol has been a Search and Rescue Team (SAR) member with the Sheriff's Office since October 2007. Carol has been active in coordinating team events and has dedicated numerous hours to the annual BBQ at the Sheriff's hangar for the annual air show weekend, including planning, supervising, and soliciting donations of food and ice cream. She routinely attends SAR team meetings, trainings, and has participated in the "Hug a Tree program," which is a program designed to help lost children survive in a wilderness setting. She has also spent countless hours training her Bloodhound, Daisy, to become a certified search dog, so that Daisy will also become a valuable asset of the Sonoma County Sheriff's Office SAR team. In addition to the time Carol donates to the SAR team, she remains dedicated to her family and career.
Bob Gallagher, Sonoma County Airport, Transportation & Public Works: Bob was the first volunteer with the Sonoma County Airport since the program started in December of 2010. Bob is always smiling, cheerful, patient, and ready to lend a hand; with Bob, travelers can be assured he will listen with kindness and sympathy. He has a wealth of knowledge about the Airport, its history and operations, and his extensive pilot experience and background further add to his valuable knowledge. In addition to volunteering for the Airport, Bob volunteers with Angel Flight West, a group of pilots who, at their own cost, transport people in critical need of medical care or other crisis situations. We're honored that Bob's warm demeanor and good humor leave a positive impression on visitors and locals alike!
Jerilynn Jenderseck, Master Gardener, UC Cooperative Extension: Jerilynn has been a Sonoma County Master Gardener with the UC Cooperative Extension since 2010. She serves on the Master Gardener Board of Directors as the Vice President of Membership, and is the leader of our Santa Rosa Resource Desk, where home gardeners receive information related to horticulture, pest management and other gardening topics. Jerilynn's computer expertise has been invaluable to the program, and as such, she has spearheaded the effort to upgrade our data system. Jerilynn has volunteered for Master Gardener activities including tabling at farmers' markets, the Petaluma Library demonstration garden, outreach as a Food Gardening Specialist, and specialized Master Gardener training in the areas of entomology and plant Identification. Jerilynn has become an invaluable resource and a passionate volunteer with a very approachable demeanor. She's the "go to" person with a "can do" attitude that makes her a wonderful person to work with.
Some content on this page is saved in an alternative format. To view these files, download the following free software.